State and territorial attorneys general have been involved in the issue of smoking and other tobacco imagery on screen since before the 1998 Master Settlement Agreement they negotiated with US tobacco companies to end tobacco promotion aimed at young people. Attorneys general from most states and territories have now asked the US media companies to eliminate smoking from youth-rated films and TV shows, including streaming.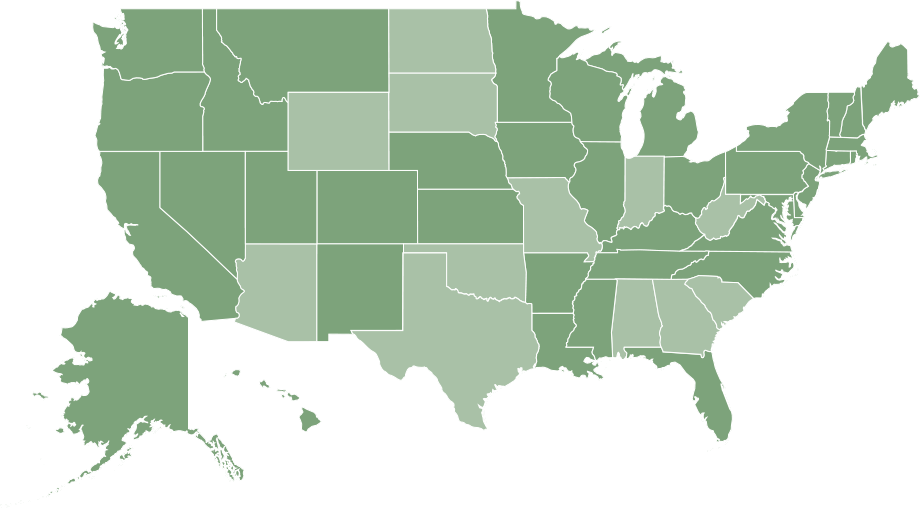 Attorneys general for states in dark green signed the 2019 letter to America's largest media companies. Also signing: AGs for Guam, Northern Marianas Islands, Puerto Rico, Virgin Islands and Washington, DC.
---
In 2012, thirty-eight state and territorial attorneys general named four 'specific, meaningful' steps that US media companies and their studio subsidiaries 'can and should take to reduce this harm substantially':
Eliminate smoking from youth-rated movies...include anti-tobacco spots in all media before films with smoking, regardless of rating...certify no tobacco pay-offs in closing credits...and keep tobacco brands out of all future films. Read the letter
In 2019, forty-three attorneys general made specific recommendations to media companies with on-demand and streaming services:
Eliminate smoking in all youth-rated, streamed material, including original shows...rate all future titles with smoking R or TV-MA... recommend films and shows with smoking only to adult viewers...enable parents to block titles with tobacco content, regardless of rating...and run "strong" anti-tobacco or anti-vaping spots before any programs with tobacco imagery, regardless of rating. Read the letter 
In 2020, the National Association of Attorneys General (NAAG) made recommendations to the five creative Guilds that produce and develop streaming movies to implement a series of best practices to reduce young viewers' exposure to tobacco imagery in content by:
Excluding tobacco imagery in content targeting children... recommend and promote only tobacco-free titles for children and families... run strong anti-tobacco spots (particularly preceding smoking or vaping content)... display highly visible, forceful warnings before content with tobacco imagery... and offer effective parental controls. Read the letter 
Is your attorney general among the many who support these reasonable, life-saving policies? If so, thank them for tackling one of the biggest public health challenges in our communities. If not, make sure they have all the facts.