There are strong business incentives for media companies to stop promoting tobacco to their audience beyond being responsible citizens: 1) reducing risk, 2) reducing costs, and 3) increasing revenue to provide a return on investment to shareholders.
In today's media markets, reputation – consumer trust in corporate brands – is crucial. So for media companies, studio brands and streaming companies, reducing reputational risk involves ensuring that current and potential consumers do not perceive that these businesses are tainted by tobacco. This reassurance is particularly important given the tobacco companies' decades-long program to quietly place smoking in movies.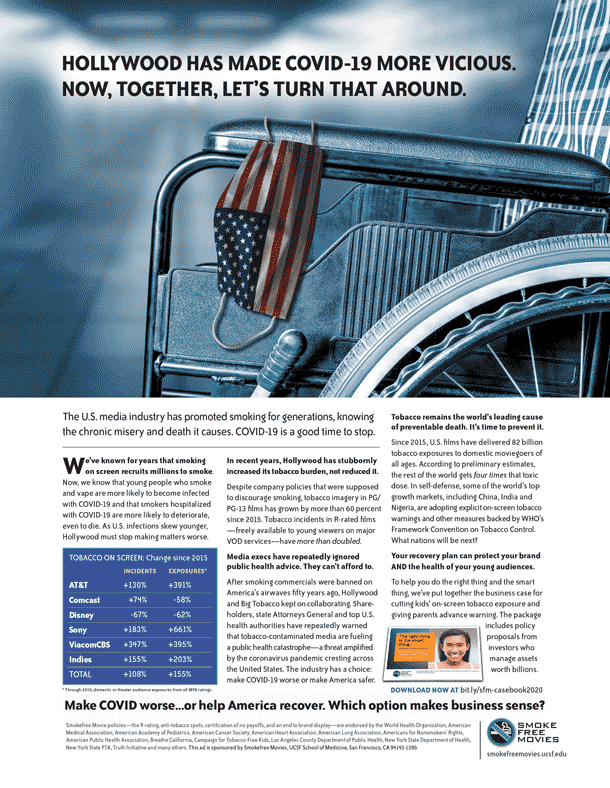 Parents who are concerned about their children and teens taking up tobacco use, including  vaping, need to know that the entertainment they are viewing does not include tobacco imagery. Many children, teens and young adults also do not want to see tobacco imagery. Viewers want to trust that when they select a movie or video it will not include tobacco.
That's why one of Smokefree Media's policy objectives is for producers to certify that there were no payoffs for any tobacco appearance in their programming.  Several companies have implemented this policy.
So, as consumer demand for tobacco-free content increases, media companies will face increasing reputational risk if they continue to include tobacco, including e-cigarettes. In today's family, parents face increasing difficulties monitoring their children and teens' entertainment consumption.
Indeed, there is scientific evidence that, after controlling for rating and production budget, movies with smoking make less.  That fact alone raises questions of why the media companies continue to allow tobacco in their films designed and rated for youth audiences.
Companies face costs associated with continuing to monitor their legal exposure to their tobacco imagery in youth-rated film productions and video productions.
Since 2003, state and territorial attorneys general have been applying increasing pressure on media companies, including streaming companies, to adopt tobacco-free policies.  If the companies voluntarily chose a non-punitive exit from presenting tobacco imagery, they will benefit from cost reductions associated with avoiding litigation.
Media companies face another potential cost from including tobacco imagery in their productions: loss of public subsidies for productions that include depictions of tobacco. The public's stake in financing of film productions is not widely known. Each year, US states and several countries outside the US spend hundreds of millions of public dollars in production subsidies awarded to film and TV companies.
Revenue is a concern for every business because revenue is the basis for providing shareholders with a return on their investment. There are two major areas of potential loss of revenue that companies could face: losses from decreased consumption of their products and losses from declining advertising revenue. As audiences, particularly parents, become more aware of the toxic effects of tobacco imagery have on their children and teens, and children and teens themselves as entertainment consumers demand content that is free of tobacco imagery, consumers can be mobilized to not view specific movies in theatres, avoid purchasing specific VODs and Blu-ray discs, cancel streaming subscriptions, shift their entertainment consumption to sources that are free of tobacco imagery, and even boycott near film releases. For the companies, these consumer actions can result in direct losses of ticket/fee revenue and viewership. Losses in consumption (i.e., audience revenue) can cascade into loss of market share and then into losses in advertising revenue as advertisers reduce their purchases or pull their advertising entirely. 
If Motion Picture Association adopts an "R" rating for films that show tobacco imagery, this will create a financial disincentive for media companies to produce productions with tobacco imagery because such productions will be less accessible to the large lucrative US audience under age 18. Media companies that produce productions that are rated "R" due to tobacco imagery will face substantial losses in revenue that could have been gained had the production been rated as "PG-13," including loss of revenues from merchandising to the US youth audience.
There is also important international exposure.  Both the theatrical film and streaming video businesses have been globalized, with US media companies earning a growing fraction of their revenues from outside the United States.  Virtually every country in the world (with the exception of the US and a few others) are parties to the WHO Framework Convention on Tobacco Control, the first global health treaty negotiated under the auspices of the World Health Organization.
FCTC Article 13 ("Tobacco advertising, promotion and sponsorship") specifically commits the 182 parties to the treaty to address tobacco promotion in entertainment media.  The Article 13 guidelines recognize that "The depiction of tobacco in entertainment media products, such as films, theatre and games, can strongly influence tobacco use, particularly among young people."  The guidelines go on to state
Parties should take particular measures concerning the depiction of tobacco in entertainment media products, including requiring certification that no benefits have been received for any tobacco depictions, prohibiting the use of identifiable tobacco brands or imagery, requiring anti-tobacco advertisements and implementing a ratings or classification system that takes tobacco depictions into account.
The guidelines recommend specific policies similar to the Smokefree Media policy objectives.  In addition FCTC Conference of the Parties has a working group that is developing more specific guidance for handling new forms of entertainment media, including streaming video.
Indeed, the FCTC was one of many reasons that India has adopted strong policies on tobacco use in movies and on television, including running anti-tobacco advertising before and at the intermission and including an anti-tobacco message onscreen while any tobacco use is depicted.
RESOURCES